WXICOF
Donkey Halters

Have you noticed when you go to your local feed store to buy a halter for your donkey it just doesn't fit very well? That's because it was designed for a horse's head. A donkey's head is shaped differently from a horse's head and to get the best fitting halter for your donkey you need to buy a halter designed for a donkey. Our line of halters was designed specifically for donkeys.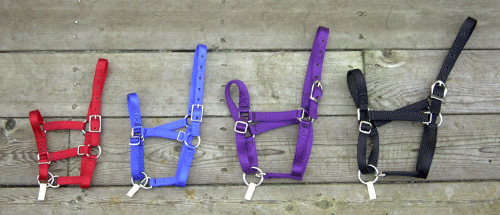 Donkey Halters - Available in 6 Sizes
(Pictured from left to right: D1, D2, D3, D4)
D1, D2, D3 & D4 halters come with an adjustable head strap and adjustable chin strap which allows for some overlapping between sizes.
D5 & D6 halters have adjustable head strap but do not have the adjustable chin strap.

Colors available: Red, Royal Blue, Purple, Black.
SIZING CHART
Use the chart below to choose the correct size halter for your donkey.

How to measure your donkey for the proper size halter:

1) Head Measurement: Measure from the corner of the mouth, going behind the ears, to the corner of the mouth on the opposite side of the head.
2) Use the Chart: Find your measurements in the chart below. If you fall between sizes, always order the larger size.

Head Measurement
Order Halter Size#
Price
Usually Fits:
22" - 26"
D1
$22.50
Miniatures up to 1 year old
26" - 29"
D2
$22.50
Miniatures 1-2 years old
26" - 32"
D3
$25.00
Miniatures 2-3 years old; Standards up to 1 year old
30" - 36"
D4
$25.00
Miniature adults; Standards 1-2 years old; Mammoths up to 6 months old
34" - 40"
D5
$27.50
Standard adults; Mammoths up to 1 year old
38" - 44"
D6
$27.50
Large Standard adults; Mammoths 1-2 years old
Larger Size Donkeys (Adult Mammoth Size) usually fit into regular horse halters. But if you prefer an actual donkey halter, We can special order larger size donkey halters upon request.
Donkey Size (measured at the shouders):
Miniature Donkey: 36" and under
Standard Donkey: 36"-48"
Large Standard Donkey: 48"-54"
Mammoth Donkey: 54" and taller
Email us with any questions or for further information.



D1 Donkey Halter
Made of durable nylon material for added strength.
Adustable head-strap & chin-strap.
Tuck loop on cheek for excess head-strap.
Strap width: 5/8" wide.
Choice of 4 Regular colors.
Choice of 3 Limited Availabilty colors.
For sizing see chart above.
Price: $22.50




D2 Donkey Halter
Made of durable nylon material for added strength.
Adustable head-strap & chin-strap.
Tuck loop on cheek for excess head-strap.
Strap width: 5/8" wide.
Choice of 4 Regular colors.
Choice of 3 Limited Availabilty colors.
For sizing see chart above.
Price: $22.50



D3 Donkey Halter
Made of durable nylon material for added strength.
Adustable head-strap & chin-strap.
Tuck loop on cheek for excess head-strap.
Strap width: 3/4" wide.
Choice of 4 colors.
NEW COLOR, Lilac- Limited Availability
For sizing see chart above.
Price: $25.00



D4 Donkey Halter
Made of durable nylon material for added strength.
Adustable head-strap & chin-strap.
Tuck loop on cheek for excess head-strap.
Strap width: 3/4" wide.
Choice of 4 colors.
NEW COLOR, Lilac and Hot Orange - Limited Availability
For sizing see chart above.
Price: $25.00



D5 Donkey Halter
Made of durable nylon material for added strength.
Adustable head-strap.
Tuck loop on cheek for excess head-strap.
Strap width: 1" wide.
Choice of 4 colors.
For sizing see chart above.
Price: $27.50


50" Gelding
wearing a
D6 Halter
D6 Donkey Halter
Made of durable nylon material for added strength.
Adustable head-strap.
Tuck loop on cheek for excess head-strap.
Strap width: 1" wide.
Choice of 4 colors.
For sizing see chart above.
Price: $27.50

Catch-All Halter - One Size Fits All

Can't find your lead rope? Can't find the right size halter in a hurry? Did you misplace it? Did your donkey carry it off somewhere? Did it just break? Or maybe you just bought a new donkey or horse but don't have the right size halter for it yet? Well, here's the answer...

This Catch-All Halter was designed to fit almost anything! It will fit any size donkey, mule, horse, cow, or most other farm animal. It will fit a baby miniature donkey as well as an adult mammoth donkey. It will fit a small pony as well as a large draft horse or draft mule. The nose piece & head piece are completely adjustable. It can adjust down to merely inches or as large as you may need it. No cumbersome buckles or snaps are needed. Just put it on & slide it to the correct size. Depending upon the size you make it, you will have up to 7' of lead rope.

Rope Style

Made of derby rope with a tubular web noseband.
Colors Available: Royal Blue, Orange, Grey, Purple, Black, Red/White/Blue with red noseband, and Red/White/Blue with blue noseband.
Item # C4
Price: $14.95


Flat Style - Discontinued - On Sale While Supply Lasts
Made of flat poly.
Colors Available: Patterened Blue, Red or Black.
Item # C2
Sale Price: $9.95

GO BACK TO SUPPLY LIST